Keep Flowers Fresh with Cardboard Pot Holders
Our specially designed potted plants display holder is ideal for the potted plant. Our locally manufactured cardboard boxes in Vancouver are designed to keep your pots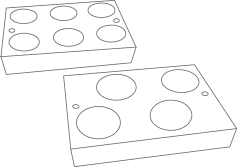 standing upright during transportation, thus minimizing soil spill and the inevitable plant decay. We carry various sizes of packing boxes for your flower needs, so give us a call or contact us online for an estimate.
Cardboard Floral Trays
At Racer Boxes, we also manufacture cardboard floral trays, an alternative to our potted plants display holder. Our cardboard floral trays are built to hold anything from potted plants to floral bouquets. They are ideal for any florist shop to send home with your costumers. For wholesale inquires, please contact us for an estimate on your order.
Don't let a beautiful thing go bad; keep flowers fresh with packing boxes!
How to Order Your Boxes from our Richmond BC Plant
From stock cartons to custom display boxes, call Racer Boxes at 604-270-8205 or contact us online anytime for your affordable, high quality wholesale boxes!