Innovative Cardboard Boxes Made in Richmond BC
Are you delivering items in shipping boxes to far off locations? Or, are you moving to a new home with all your fragile belongings in moving boxes? Whether it is these situations or any other cardboard packaging needs, you definitely want boxes that are safe, durable and reliable.
While most vendors of cardboard boxes promise these qualities, Racer Boxes actually stands out from the rest? Here are two innovative designs by Racer Boxes in Richmond BC that makes us stand out from the rest
Convenient Fruits and Vegetables Boxes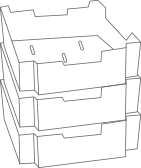 Properly designed agricultural boxes are critical. Fruits and vegetables that need to
be transported over long distances need to be fresh and crisp when they're delivered. Nobody wants to eat soggy and wilted food. As a result, the box that you use to store and deliver your eatables plays a huge role in determining their state when it reaches the customer. Racer Boxes provides fruits and vegetable cartons with die cut holes in order to ensure a steady ventilation to keep the contents fresh. We also provide box printing to ensure your produce boxes are looking great too.
Packaging Cartons With Display Windows
What happens when you need display cartons that has to show its contents? If that is the case for your products, then typical cardboard cartons would not be ideal.
Racer Boxes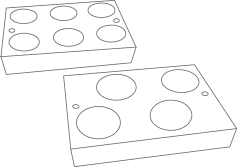 introduces yet another exciting package: the potted plants display holder. This carton can securely hold potted plants without suffocating them. While the pot is secured in place inside the carton, the plant itself is out for display. The potted plants display holder is not only great for delivering such plants; it also works as a beautiful window or table decoration for all those plant lovers.
Order High Quality, Racer Boxes
Contact us today at (604) 270 – 8205 for affordable and high quality wholesale boxes and cartons.