Cardboard Boxes, Strong Enough for a Crash Landing
Corrugated cardboard boxes have claimed to be strong and durable materials for any delivery or packaging challenge. What is the definition of strong and durable when it comes to corrugated cardboard boxes?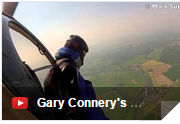 Falling 2400 feet from a plane, landing on boxes
In 2012, British stuntman Gary Connery jumped 2400 feet from a plane and landed on a pile of cardboard boxes. Connery, who has professionally stunted in films including James Bond, Indiana Jones and Batman, flew with a wingsuit but no parachute out of a helicopter into a narrow landing strip made only of cardboard boxes. He emerged from the pile of boxes unharmed and in one original piece.
A half pound of paper made into a cardboard box for a pair of shoes will withstand a 1000 pound load. No other material can do the same thing at the same cost.
The strength of cardboard comes from the I-beams and trusses. An I-beam has a top-plate, a bottom plate and a stringer in between. This simple structure offers a great deal of strength especially when weight is added to the top, i.e. added compression.
Learn more about the amazing properties of corrugated cardboard boxes.
Vancouver's Custom Cardboard Box Supplier
Racer Boxes is a local Vancouver box manufacturing company that's happy to cater to your unique needs with custom die cut cardboard shapes, sizes, designs, and other custom services.
Call us at 604-270-8205 or contact us online anytime for your affordable, high quality delivery cardboard boxes – made any way you like!